Description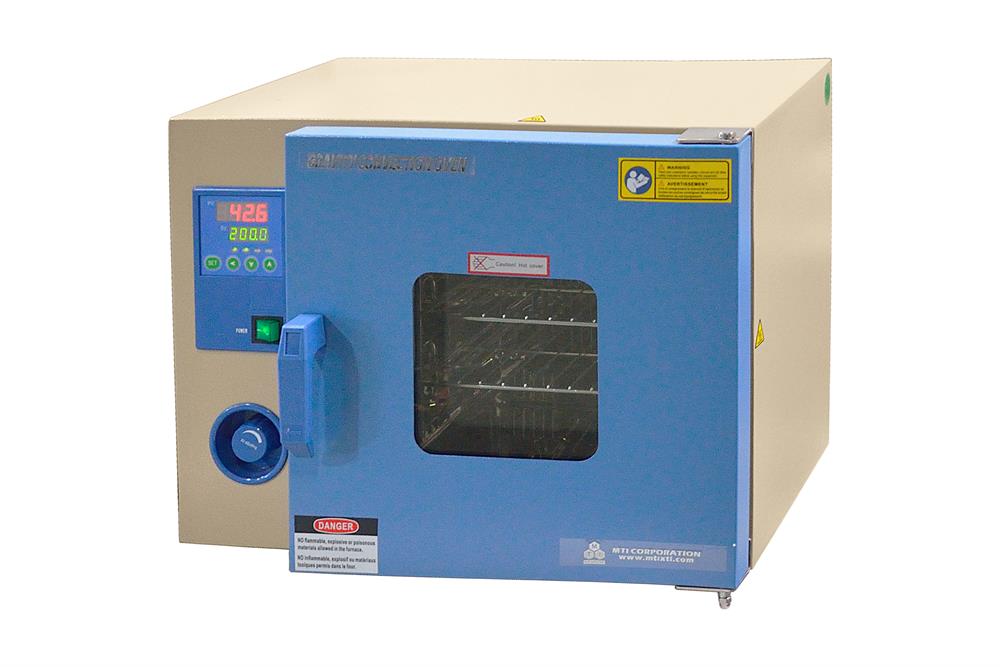 DHG-9015 is a reliable forced-air drying oven, which can heat upto 250°C. It can provide uniform heating conditions for a variety of laboratory applications. SPECIFICATIONS:

Working Voltage
AC 110V
Max. Power Consumption
800W ( 10A breaker )
Max. Working Temperature
300°C max for < 30 minutes
250°C continuously
Chamber


Interior Material: Polished Stainless Steel sheet
Chamber Dimensions: 240mm(L) x 240mm(W) x 200mm(H) (10"x10"x 8"), (11.5 L Capacity)
Silicone O-ring is included (Spare O-ring is available at $50/ea)
Two adjustable chrome-plated wire shelves are included

Venting Port

Two 30 mm Dia. Venting ports are installed on the back of the oven.
Temperature Controller

Single Set Point Precision Temperature Controller with +/-0.1°C tolerance
Digital temperature display for easy operation and overshooting adjustment

Product Dimensions
530mm(L) x 370mm(W) x 420mm(H) (21" x 17" x 17")

Net Weight
45 lbs (20.5 kg)
Compliance

CE Certified.
NRTL certification is not available

Warranty
One Year limited warranty with lifetime support (except for consumable O-rings)
Operation Instruction


Shipping Dimentions
40" x 26" x 25"
Shipping Weight
80 lbs
DZF-6090-HT is a 500ºC high-temperature vacuum & atmosphere oven. The oven is equipped with two heating zones inside the heating chamber. Each heating mechanism is controlled by a discrete programmable temperature controller.
This floor-stand oven integrates vacuum pump, recirculating water chiller, and gas flowmeter together for immediate use. Vacuum oven lowers dry temperature, prevent oxidation, and protect organic materials. It is the ideal oven for drying and annealing material as well as nanomaterial preparation.
SPECIFICATIONS
Power

Single Phase 208~240 VAC 50/60 Hz.
2600 W with 20A breaker required

The chamber is structured with stainless steel and welded to bracing pieces.
Two racks of SS304 heating plate inside the vacuum chamber, which directly heat heats the chamber

Warning: never directly put samples on the heating plate, please use a ceramic sheet or stainless tray to contain sample

Chamber material: 1Cr18Ni9Ti stainless steel

Chamber size: 18x18x18", ( 91 Liter, 3.4 Cubic Feet )

Temperature Control


Two programming temperature controls are equipped for discrete control on each heater
30 segments programmable with ± 1ºC accuracy

Continuous working temperature: 50 - 500 ºC

Max. working temperature: 550 ºC f < 2 hours

The maximum temperature difference between the two zones: 100ºC.

Temperature Uniformity: ±5

°C in 12x12x12" chamber center zone.

The software and PC interface module is available at extra cost.

Vacuum Pump & Floating-Meter


Dual-stage vacuum pump with exhaust filter installed on the bottom.
Maximum vacuum: <133pa or 2 Torr
Built-in mechanical vacuum gauge
One 1000 mL/min gas flowmeter for monitoring gas gauge, fill, and flow.

Water Cooling


One Digital controlled Recirculating Water Chiller EQ-KJ5000 is included. (click Pic. left to see details)

Refrigeration range: 5~35°C
Flowing range: 16L/minute
Coolant tank capacity: 6 Liter
Use anti-corrosion coolant for the best performance.

Warranty

One-year limit warranty and lifetime support

Certificate

CE Certification
NRTL or CSA Certification is available upon request at extra cost.

Product Dimensions

610 x 690 x 1350 mm (24" x 27" x 53")

Shipping Weight & Dimensions
Operation Manual
Application Notes

For accurate temperature measurement, you may do calibration by using the temperature calibrating kit.
For more information on how to calibrate the oven temperature, please read the document How to calibrate the oven.

Attention


After heating the oven to high temperature, the chamber will be dulled and discolored. They are normal phenomena and will not affect the performance of the oven. All sample inside the chamber should not have any contact with the chamber wall.