Description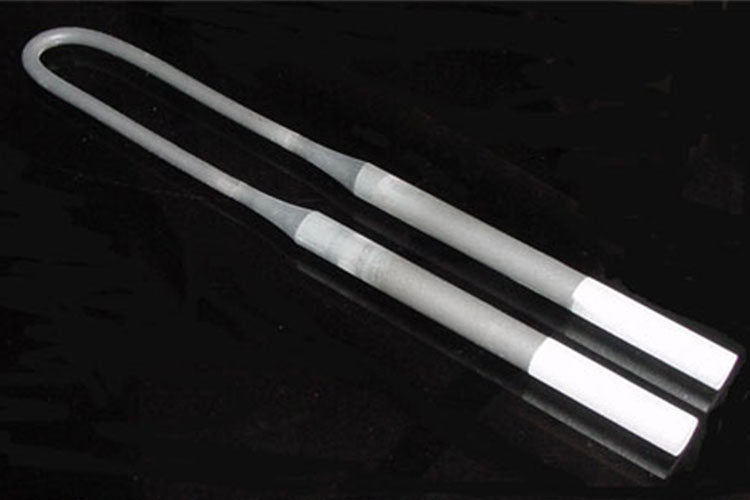 Specifications:
Materials: MoSi2
Max. surface temperature: 1750 °C
Working temperature:Volume Density: 5 ~ 5.6g/cm3

1700°C (in air) Max. ( < 1 hour )
1600°C ( in air) continuous
1600°C (in N2)
1220°C ~ 1500°C (in H2)

Bend strength: 15 ~ 25kg/cm3
Vickers hardness: (HV) 570kg/mm2)
Porosity rate: 7.4%
Water absorption: 2%
Heat extensibility: 4%
Dimension:

D1: Ø12mm
D2: Ø6mm
A: 30mm
L=L1+L2:=180+120=300mm

Resistivity Properties of MoSi2 Heating Element

The resistivity of MoSi2 heating elements rises with increase in temperature (shown in the graph below). When the temperature of the heating stage is below 300°C, less than 35% of the total output power should be applied to avoid stressing the elements with excessive current.
Generally the resistance of heating elements will not be affected by aging under normal operating conditions, therefore old elements can be used together with new ones.

---
Installation
When installing heating element into furnaces, a separator should be placed between the two shanks of the heating element before hanging the element inside the furnace chamber. The proper separator width should be selected to fit the shanks smoothly and avoid damage to the element.
Video: Installation of Mosi2 Heating Element

Warning:
Exercise extreme caution to not apply any stress on the elements during installation. Heating elements are very brittle and could break if the separator is too wide or if too much pressure is applied on them.
No warranty will be issued for damage caused by improper installation.