Description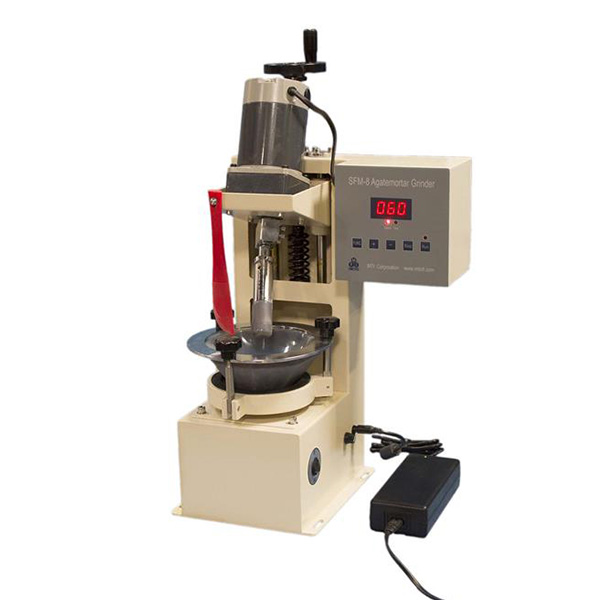 MSK-SFM-8 is designed for grinding & mixing a small batch of chemical and compound automatically for R&D laboratory. Its mortar and height adjustable pestle are designed for efficient, easy, and uniform grinding. The mortar can be taken off easily for cleaning. It is an excellent tool for preparing various ceramic materials in a research lab so as to save labor. Grinding time can be set using the automated controller. Minimum granularity can be as small as microns even nanometers. The grinder can be used under Ar gas in a glovebox. SPECIFICATIONS
Working Voltage

110- 240V AC via 24V DC power adapter is included for universal using
The power adaptor is UL, TUV, CSA and CE approval for worldwide use.
It can be used in Ar gas glove-box

Max. Power Consumption
120W
Grinding Bowl


5" Agate Mortar & Agate Head Pestle included
Mortar Dimensions: Ø120mm x 34mm Dia.

Plastic Spatula


It is designed for spreading the substance in the grinding bowl to improve the performance of mixing.

Grinding Speed & Pressure

Mortar: 0 - 10rpm
Pestle: 0 - 80rpm adjustable
Grinding pressure is adjustable by spring

Dimension
240mm(L) x 240mm(W) x 500mm(H) or 9.4" x 9.4" x 19.7"
Net Weight
38 lbs
Shipment Dimension
40" x 20" x 30" (L x W x H)
Shipping Weight
65 lbs
Warranty
Two-year limited warranty with lifetime technical support
Note: Consumables and damages due to improper use are not covered by the warranty.
Compliance

CE, TUV, UL, CSA certified in power supply
The machine is safe 24VDC input, which can be used without any safety certification
NRT or CSA certification is available upon request at the extra cost

Operation Video
Application note
Warning

Do not grind samples that have more than 7.5 Mohs hardness scale, the Pestle head or Mortar may have an overpressurizing situation.
Do not grind samples O.D larger than 2mm.
Do not use any hydrofluoric acid and explosives samples.
Wear protective clothing and equipment appropriate for the hazard samples.
Do not heat the grinder, or put it in a dry oven for drying.
In order to avoid overpressurization of the Pestle Head, the grinding process should be step by step, increasing pressure by applying only half turn each time, and the Pestle head has a compressive depth limit of (up to) 3mm.