Description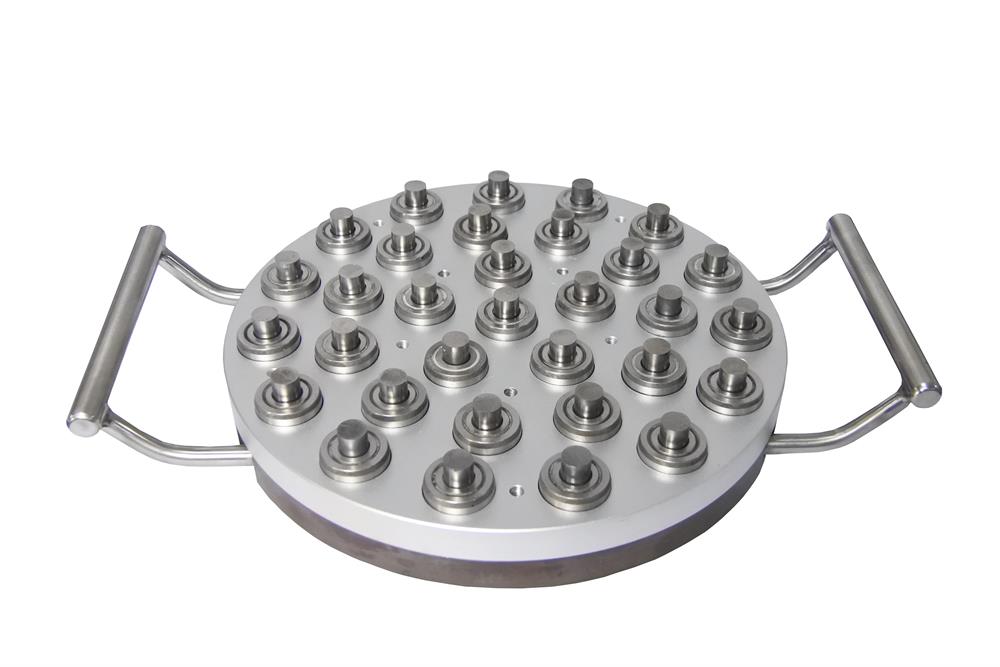 Die10-S32 is a High Throughput 32-position pressing set. It includes 32 pieces of 10mm ID pressing die, adapter plate, and demolding plate, which allows the making of 32 dry pallets with different compositions in one single pressing within 30 minutes.
The adapter is compatible with YLJ-100M, YLJ-100E, and YLJ-200E Hydraulic Press. SPECIFICATIONS:
Pressing die installation schematic


To avoid the risk of accidents and damage to the Pressing Die, please read these instructions carefully before installation and before using it for the first time.

Must Read the manual especially the die installation schematic before the operation.
The operator must wear protective goggles.
Must have Hydraulic Pellet Press equipped with the Protection Cover,

32-Position Adapter


Handle on both sides for easy carry
Holds a maximum of 32 peices 10mm ID pressing dies
Use the provided pins to position the demolder for easy lining up.

Demolder


The specially designed demolder is used to demold 32 sample at the same time
Use the provided pins to position the demolder for easy lining up.

Pressing die


Use for making 10mm dry pallets
Please click here for more details of the pressing die.

Dimensions


Maximum Load of a single die
5 metric Ton (at room temperature)
630 MPa
The Hi-Throughput Pressing Die Set includes

32 pieces 10mm ID pressing die:

One 10mm I.D. core die
Two pushing rods highly polished and perfectly fitted into the die.

One 32-position adapter
One demolding plate
3 pieces of the positioning pin

Compatible Hydraulic Press
(optional)
Cautions

WARNING:

DO NOT press flammable, corrosive, or explosive materials
The operator must wear a protection goggle.

Attention:

To achieve the best result, please ensure the volume of sample powder in all 32 pressing dies are the same.
Use ethanol to clean the pressing die before and after use every time
Use anti-rust oil after the operation and store it in a dry place to avoid rusting.
NO pressing powder with particle size LESS THAN 30 micron should be used. Small particles may slip into the gap between the pushing rod and steel sleeve and cause damages to the sleeve during the compression.
Ball mill or ground the powder to the size of 32~75 microns powder before pressing.
.

Instruction Video
Steps to make sample pellet

Mixing and grinding chemical powder by agate mortar or Ball Mill
Calcine mixed the powder in a high temp furnace under suitable temperature
Crushing and Grinding calcined powder again by mortar or ball mill
Put calcined powder into the die
Pressing sample by a pressing machine under suitable pressure
Take out pellet sample from die
Sintering the pellet under suitable temperature in Oven
Then, a new material sample is formed!

Warranty

Pressing Dies are consumable products and are not covered by MTI's warranty.