AVS Inc - Sinter HIP Furnace, 15 cubic feet, 60 bar pressure furnace, tungsten carbide sintering furnace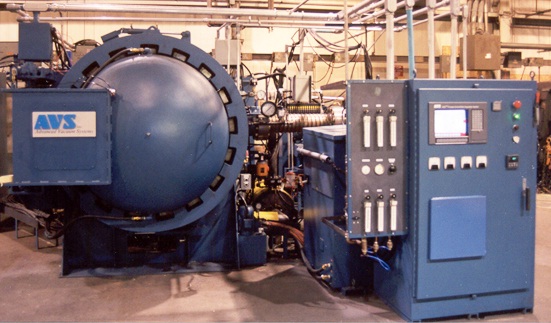 AVS leads the way in standard and custom engineered vacuum/pressure furnace systems throughout the world. Our AVS Sinter HIP furnaces, used in the debinding, sintering and densification of tungsten carbide, continue to provide our customers with long term value, saving time and handling by allowing a combination of these process steps into an integrated cycle, performed in a single furnace.  AVS Sinter HIPs have been tailored to meet the specific requirements of tungsten carbide sintering furnaces, combining unique capabilities for paraffin or binder removal, pre-sintering and hot isostatic press densification into a single piece of equipment for production of tungsten carbide hard metal products.  Today these AVS specialty furnaces dominate the tungsten carbide sintering furnace market.
Using specialized vacuum pumping systems, binder traps and condensers, plus engineered gas delivery systems, AVS Sinter HIP furnaces provide closely controlled vacuum, partial pressure and HIP atmosphere control from vacuum to 150 bar and higher.  If required, temperatures can be managed by multiple zone heating and control for superior uniformity and product quality.  Six sided heating (top, bottom, left, right, front and rear) is commonly used to minimize heat gradients and maximize load capacity.
To provide custom pressure furnaces throughout the world, AVS maintains code certifications to manufacture pressure vessels to ASME Section VIII Div I, PED (European Pressure Equipment Directive), Japanese code, Chinese code, Russian code, and will qualify for others if necessary.  AVS adherence to ASME codes allows AVS the confidence to offer the only standard 5 year chamber warranty in the industry. Our AVS furnaces are built for complete safety during operation to meet OSHA, UL, CSA or European CE standards, enabling AVS tungsten carbide sintering furnaces to provide years of safe, reliable operation.
AVS offers standard Sinter HIP furnace sizes for tungsten carbide from 1ft³ volume to 20ft³, operating up to 1600°C at 60 bar or 100 bar of argon, with available Rapid™ Cooling systems, load transfer systems, hydrogen burn-off capabilities and gas recovery systems.  The unique willingness of AVS to apply high temperature and HIP furnace innovations to build custom pressure furnaces has enabled customers to pursue novel combinations of pressures up to 150 bar and temperatures up to 2300°C.
With the standard cooling package, an AVS Sinter HIP furnace with a nominal load can cool for unloading in approximately 7 to 8 hours.  On the other hand, the same furnace with the same load is able to cool in less than 4 hours if equipped with an AVS Rapid™ Cool system. Rapid™ Cool is available on all new AVS Sinter HIPs, but can also be retrofitted to existing Sinter HIPs in the field.
Premier Solutions Pte Ltd / AVS Inc - Sinter HIP Furnace, 15 cubic feet, 60 bar pressure furnace, tungsten carbide sintering furnace