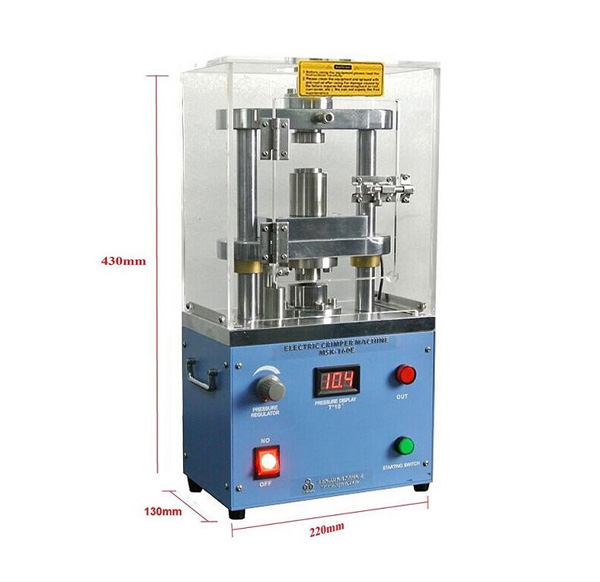 MSK-160E is a compact Pressure Adjustable Electric Crimper for CR2016, CR2025, and CR2032 coin cells. The use of a 24VDC motor enables the operation inside a glove box under the Ar atmosphere for Li-S, Li Metal Air, and Li half-cell testing. The digital pressure controller can keep the crimping force consistent at each time. The compact size of the crimper allows the user to move it in or out from the airlock chamber of the standard glove-box. MTI has granted the patent 201120462024.0 for the Electric Coin Cell Crimpers MSK-160E since July 2012.
Power


110 - 240V AC (50/60Hz) NRTL certified power adapter for worldwide use
24V DC motor with reducing gear, 15W. The operation is very safe without further certification

Output dimension

O.D +0.15mm after crimping (Original O.D 19.96mm, then output after crimping is about 20.11mm)

Power Cord Extension w/ Feed Through for using in a glove-box

An extension power cord with feedthrough is included in the standard package. This extension is required for the following applications:

No power source is available inside the glove box and the customer needs to extend the power cord to the outside of the glovebox,
The equipment is going to be placed in an argon atmosphere. Due to the nature of the argon atmosphere, the 24V adapter is susceptible to arcing in argon. (Nitrogen atmosphere is safe.)

Die Set & Compatibility


The standard package includes one assembling die made of hardened steel for crimping CR2032, 2025, & 2016 coin cells.
100 pcs MTI's CR2032 cases are included in the package for immediate testing
Optional crimping and de-crimping die sets are available. Click here to check the price and availability.
Note: You may adjust the gap adjustment screw to match the coin cell case with a different thickness.

Pressure Control


A built-in load cell with a digital display for pressure measurement and control

Pressure adjustment range: 0-1.35T
Recommended assembling pressure for CR20XX coin cells should be over 0.8T for MTI's CR2032 cases. Please find the desired pressure by experiment.

Protection Shield
Protection shield/enclosure (plexiglass) with safety interlock is installed

Dimensions & Weight


Dimension: 220mm(L) x 130mm(W) x 430mm(H)
Net Weight:: 25 kg (55 lbs)
The crimper can be sent into the glovebox via an airlock chamber

Shipping Dimensions
Shipping Weight
Compliance


CE Certified
NRTL or CSA certification is available upon request at extra cost.
Patent Granted: 201120462024.0 for the Coin Cell Case Crimping since July 2012

Warranty
One year limited warranty with lifetime support
(rusted and damaged parts due to improper storage condition or maintenance are not covered by warranty)
Operation Video
Maintenance Notes & Warnings

Electrolytes are highly corrosive materials. The die set must be cleaned with alcohol after each use to avoid corrosion
In the case a replacement die is needed, please click pic.1 in below to order.
The PTFE die (found at the top die) ejects the cell casing after crimping via spring-loaded pressure. Do NOT overtighten the pressure adjustment knob to avoid damaging this PTFE die.
To set the proper pressure on the die, loosen the knob all the way until the spring compression is no longer stressed. Then start tightening the knob and stop turning it once the spring compression is felt. This will prevent the PTFE to die from deformed by overpressure. (Please refer to Pic.2 for details. )
Please use MTI Brand Coin Cell Cases only with the crimper. We don't guarantee the crimping quality if other brand cells

Pic.1 Pic.2
Application Notes ---- How to choose MTI Crimper


MSK-110 is a hydraulic manual crimper. It is suitable to use outside the glovebox. It is a little difficult to operate inside a glove box, and also may be risky on oil leaking for long time use
MSK-110-S is driven by inert gases, which is suitable for use inside a glovebox with N2/Ar and with faster operation.
MSK-160E is driven by electric and good for using in the glovebox with N2/Ar. but speed is a little slower than MSK-110-S. It has a compact size and can be transferred via the air-lock chamber of the glovebox.