Description
Material Characterization - Integrated Metrology Annealing Chamber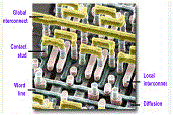 Rapid Thermal Mechanical Evaluation of low k, Copper, Barrier, High k and novel materials.
FSM 900TC-vac series Integrated Metrology System for simultaneous 
1) Film Stress Hysteresis Studies 
2) Thermal Stability Evaluation
3) Thermal Desorption Spectra 
4) Shrinkage Studies
5) Reflectivity Studies 
6) Coefficient of Thermal Expansion Measurements
Features
Unique capability to measure film stress to 900 degree C, options to 1100 C.
Unique capability to measure out-gassing with a RGA unit during a heating cycle.
Capable to measure wafers from 50 mm to 300 mm in diameters.
Capable to pump down to 1E-6 torr to prevent film oxidation during heating.
Fast and Simultaneous multiple metrology on same wafer . Avoids tool to tool and sample variation problems associated with multiple tool sets.
Premier Solutions Pte Ltd / FSM 900TC Material characterization