Description
Material Characterization - Quantitative Adhesion Testing 4 Point Bend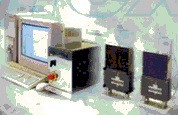 FSM Aquaflex 4 point bent system for
Low k, copper, barrier film adhesion strength studies
Stress induced fractures or failures
FSM Aquaflex 4 point bent system for
Low k, copper, barrier film adhesion strength studies
Stress induced fractures or failures
Testing conditions: 
 
Room Temp or Variable temperature option 
 Ambient or in liquid
Cohesive Strength Testing and crack velocity Options
Features Multiple Chambers for Rapid Characterization
Integrated Sample Preparation and training package for rapid lab setup
 

Features

 

Provides sample preparation kits and methods in sample preparation work.

Provides up to 6 chambers per tool.
Easy to learn and operate.
Premier Solutions Pte Ltd / FSM AquaFlex (Material Characterization)