Description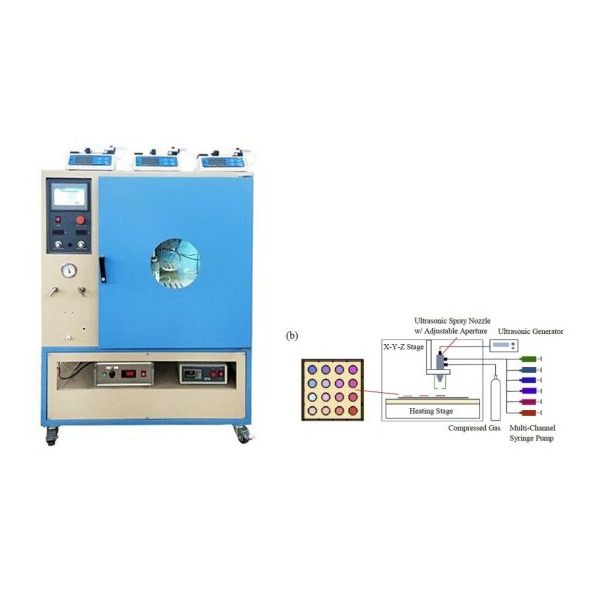 Spray pyrolysis is a process in which a thin film is deposited by spraying a solution on a heated surface, where the constituent reacts to form a chemical compound. The process is particularly useful for the deposition of oxides and has long been a production method for applying a transparent electrical conductor of Tin oxide (SnO2) or Stannic oxide to a glass substrate. Now, this technique is increasingly used to prepare perovskite thin film and battery electrode.
MSK-SP-04-HT is a hight throughput spray pyrolysis system, which carries three types of solutions and coats different combinations of composition as the program to 18 mm dia. substrate up to 36 positions. The coating chamber is vacuumable which allows spray pyrolysis under controlled atmosphere. This is smart equipment to explore new generation material at a faster speed for battery electrodes and perovskite solar cells.
.
Specifications:
Power Input

208 - 240VAC, 50/60Hz, single phase
4000W in total

Spray Nozzles


Two spray nozzles are optional, which sprays slurry with a viscosity 300 - 500 CPS

Compressive air spray nozzle for high viscosity thick film coating ( Pic 1 )
High power ultrasonic spray head (compressed air-assisted Pic2) with 3000W 20Khz Generator(Pic2) for lower viscosity film ( higher cost )

One digital FMC is included for delivery compressive gas in the constant pressure for spray nozzle. ( Pic 3)

(PiC 1 ) Pic 2 (Pic. 3)
Syringe pump


Four Syringe pumps are included. Three for the solution to be mixed and coated and one for cleaning by DI water.
Standard syringe capacity: 60 ml ( other capacity is available)
Line speed range: 1 µm/min---120 mm/min adjustable
Accuracy: ≦ ±0.5%(when >30% FS)
Control: The syringe pumps are controlled by either self digital control panel or main touch screen control panel.

Solution Mixing


Three types of solutions will be mixed and dispersed in the small container before spraying.
Container size: Φ25x100mm H(~ 50ml)
Blade stirring Speed: 120 RPM

Vacuum Chamber

Processing Platform



The precision X-Y-Z travel mechanism is built inside the vacuum chamber, which will carry the spray nozzle to the desired position for coating locally.

Travel Distance: ( X-Y axis ) 200 mm Max Z-axis: 60 mm Max.
Travel Speed: 1mm/s - 12mm/s

One set of substrate plates with a 36 cylinder mask is built in the bottom of the chamber.
Standard cylinder mask size: 18 mm in diameter. Other sizes are available upon request.
The heating plate is installed at the bottom of the substrate plate for pyrolysis treatment.

Temperature Range: RT - 500ºC Max. ( < 30 minutes)
Temperature Uniformity: ≤±5℃
Optional heating plate with vacuum chuck (350L x 240W mm) is available upon request at the extra cost

Control Unit

7" touchscreen control panel is installed on the front of the chamber, which programs and controls all parameters for spraying.
Vacuum time and inert gas purging time is programmable.
Flow rate and spraying time in three syringe pumps to each cylinder mask are programmable to form different compositions and make 36 position coating automatically.
128 recipes can be stored in the control panel to achieve a one-button operation automatically.
Manual operation mode is available to achieve a coating point to point.
PC operation software is available upon request at the extra cost

Dimension
1100L x 730W x 1500 H, mm
Net Weight
~ 1000 Kg
Warranty

One year limited warranty with lifetime support (demo before purchase available)

Compliance

CE certified
NRTL certification is available upon request at the extra cost

Operation Demo Video
Warning

The max pressure in the chamber is 0.02 Mpa. There is a pressure release valve is built in the chamber to protect overpressure.