Description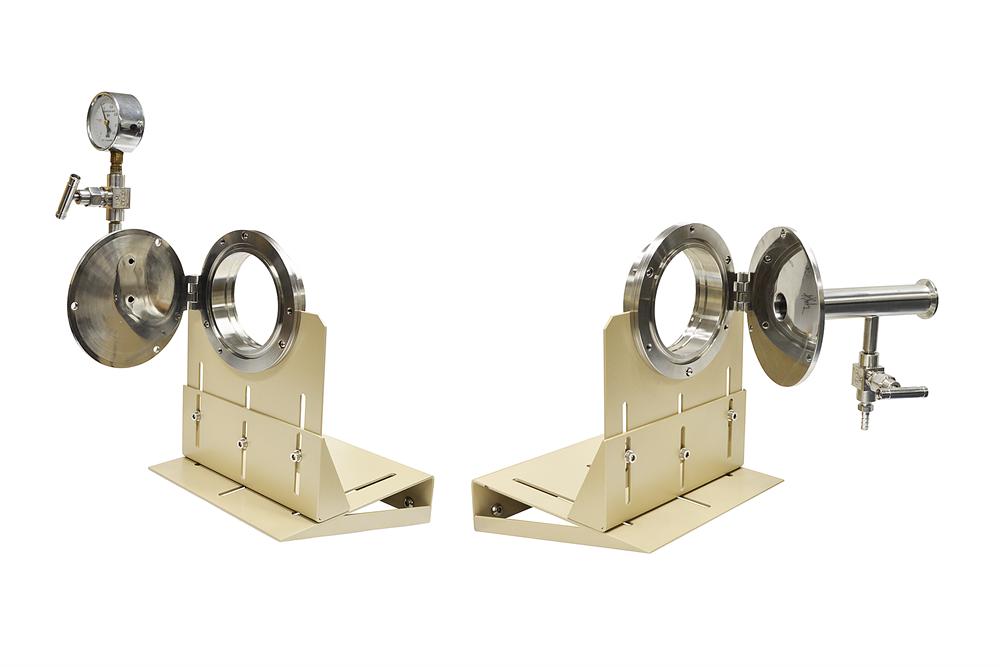 This is a pair of hinged vacuum sealing assembly with flange support for 5" vacuum tube furnace to seal both ends of OD 125 mm ( 5") tube without any welding and gluing. SPECIFICATIONS

Features


Seal tube by tightening screws on the flange without any welding or gluing.
Excellent for any type of tubing: ceramic, glass, quartz and steel pipe.
Installation requires drilling holes on the furnace casing to mount the flange support.
Made of Stainless Steel (SS304) with high-temperature silicon O-rings on each flange.
Delicate metal support allows for both vertical and horizontal adjustment
Openable flange is designed for sample easily loading / unloading.

Descriptions


Left end comes with a hinged flange with a barbed valve, 1/4" feedthrough and pressure gauge.
Mechanical Pressure Gauge is available as an alterlative of regular gauge.
Right end comes with a hinged flange with a barbed valve and KF25 vacuum port.
KFD25 angle valve maybe required for connecting the vacuum port to a vacuum pump.

Vacuum level
Dimension
Click the image to the left for dimensions details.

Application Note


Place the o-ring on the notch of the hinged flange.
A tube block is required behind each flange to avoid the silicone O-rings melting.
In the parts diagram on the left, the dia# is 100 for this product.
Tube block is available in related products below.
Warning: For liability considerations, MTI does not recommend or endorse the use of any toxic, flammable or corrosive gases with our flange assemblies. Please contact us with any concerns.