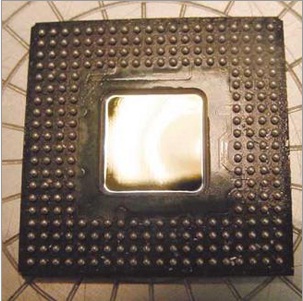 Filmetrics Applications (Thickness Measurement) – Integrated Circuit Failure Analysis
Failure Analysis (FA) techniques are used to locate and identify the cause of failure in integrated circuits.  Typical FA work flow includes four steps:
Assure failure validity
Fault localization and characterization
Sample preparation and defect tracing
Root cause determination
In most FA processes, iterations between steps 2 and 3 are required due to the layered construction of modern integrated circuits. Processes in steps 2 and 3 include:
·         Decapsulation, deprocessing, or delayering
·         Polishing and cross-sectioning
The two main types of FA applications that require film thickness measurement are front side delayering (for traditional device-side up circuit packaging) and backside thinning (for the newer flip-chip device-side down circuit packaging.)
Front Side Delayering
The front side delayering process requires knowledge of the thickness of the dielectric remaining after dielectric thinning.  The Filmetrics F40 and F42 are both ideal for this application.
Backside Thinning
Backside thinning is used on flip chips to gain backside access to the device circuitry.  The silicon is reduced to around 20µm thick so that FIB techniques can be used to inspect the circuit and to edit the circuit when necessary.  In backside sample preparation the silicon substrate is initially ground down quickly to a safe thickness and then a slower polishing step is used to polish the silicon close to the desired thickness.  After the thickness of the remaining silicon is measured, the polishing step is repeated.
With the ability to measure up to 200µm of silicon, the F20-XT was designed with backside thinning applications in mind.
Note: Silicon Backgrind
Silicon backgrind is a non-FA process that is closely related to FA backside thinning. Its purpose is to thin the silicon substrate for smaller packaging requirements (e.g. DRAM and flash memory chips).  The silicon thickness is controlled to within a target window. This application can be handled by the F50-XT in standalone measurement and F20-XT for integrated measurement on the silicon polishers.
Premier Solutions Pte Ltd / Filmetrics Applications (Thickness Measurement / Thin Film Measurement ) – Integrated Circuit Failure Analysis