Description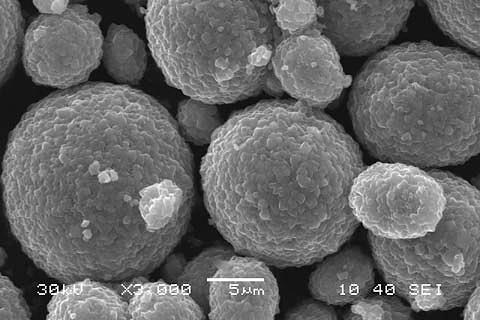 LiNiCoAlO2 (Lithium Nickel Cobalt Aluminum Oxide) powder for Li-ion power battery cathode 200g/bottle (Ni:Co:Al =8.15:1.5:0.35)Specification
Item
Description
Composition

Li (NiCoAl) O2
Ni:Co:Al=8.15:1.5:0.35

D10 (μm)
7.3
D50 (μm)
13.6
D90 (μm)
26.8
Dmax (μm)
39.9
Moisture
380
Elements Proportions
Ni:Co:Al = 8.15:1.5:0.35
pH
11.7
Li2CO3 (%)
0.32
LiOH (%)
0.11
Fe (ppm)
38
Specific Surface Area (m2/g)
0.5
BET Analyzer
Tapped Density (g/cm3)
2.40
Discharge Capacity (3.0-4.3V) (mAh/g)
195.7
@ 0.1C
Discharge Rate (%)
90.0
@2C vs.0.2C
Capacity Retention (RT, 3.0-4.3V, 1C/1C) (%)
92.3
1C@51cls>
Optional
You may order precursor to may your own composition ( click below link to order:
Please click to see Procedure for Preparing Anode & Cathode Electrode Slurry.
Please keep the powder in vacuum box to avoid moisture.
Please bake the powder in a vacuum oven at 120 - 150 °C before making slurry and coating to ensure max. capacity.
This product is not manufactured by MTI. We only sell small quantity to help the researcher developing new battery. If you have any question on IP conflict, let us know. We will forward the question to the manufacturer.