This series is intended for use in UHV or cryogenic applications where temperature extremes preclude the use of elastomer seal valves.
Approved for use in beam line facilities
Temperature operating range from 450° C to -250° C
Maximum temperature bakeouts may require poppet seal replacement after 50 cycles, while hundreds of cycles are possible with moderate bakeouts. A dial indicator at the top of the valve indicates the proper torque for closure and also when the seal should be replaced.
Additional features:
Bakeable to 350° C, 300° C closed
Operable at cryogenic temperatures
Vacuum rated to below 10-11 torr
All stainless steel construction
Electropolished inside and out
Extended-life stainless steel bellows
Easily replaceable copper poppet seal
Pulled port bodies for higher conductance
Clean room assembled
Leak rate 10-11 std. cc/sec. or less
1-1/3", 2-3/4", and 4-1/2" O.D. CF flanges available
Dial indicator for closure
The poppet seal is easily replaced with a slotted screwdriver. After seal replacement, the valve must be torqued to a higher value than during normal operation to make it seat. After closing the valve to its normal torque value, loosen the set screw below the closure nut, rotate the indicator to the farthest counter-clockwise line on top of the valve, and retighten the set screw. The valve may be closed to this mark almost indefinitely.
Periodic checks with a torque wrench will indicate seat wear and the proper mark to use for alignment. When the indicator has reached the last mark, we recommend seal replacement. Do not exceed the maximum torque specifications.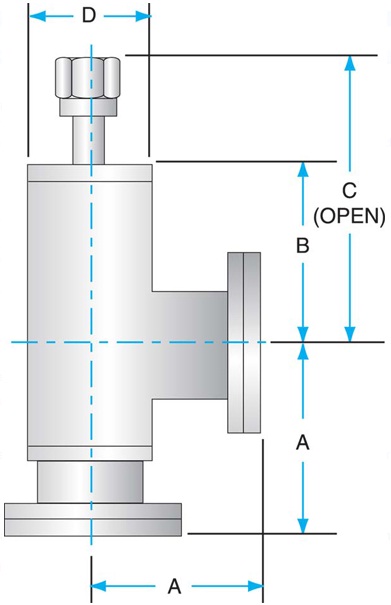 Lesker Manual SS All-Metal Angle Valves (CF flanged)