Description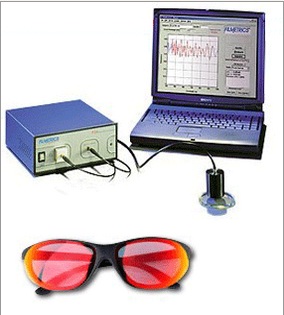 Filmetrics Applications (Thickness Measurement) – Ophthalmic Coating
Spectral reflectance is used on ophthalmic lenses to measure anti-reflection (AR) spectra and residual color, as well as hardcoat and hydrophobic film thickness measurement.
AR Coating
AR coatings are applied to reduce glare and the resulting eye fatigue caused by uncoated lenses.  The blue-green hue of AR-coated lenses has also turned out to be an attractive feature for many consumers.  Therefore measurement and control of the AR coating and its color has become increasingly important.
The Filmetrics F10-AR was designed especially for ophthalmic applications, and comes standard with a number of proprietary features for characterizing AR coatings.  An optional stage is available for measuring lens transmittance down to 380nm.
Hardcoats
Hardcoats are applied to impart increased scratch and UV resistance.  This protection is supplied to the lens by covering it with the hardcoat, and to the AR coating by providing a harder, less flexible foundation.
The Filmetrics F10-AR is available with a hardcoat measurement upgrade.  It is possible to measure both one-and two-layer hardcoats up to 15 microns thick.
Hydrophobic Layers
Hydrophobic coatings impart water- and oil-repellent properties to AR-coated lenses, making them easier to clean.  These layers are extremely thin - on the order of a hundred atoms - and thus require short-wavelength (UV) light to measure most accurately.  The preferred instrument for measuring hydrophobic layer thickness is the F10-AR-UV with the UPG-F10-AR-d and UPG-F10-RT-nk upgrades.
Premier Solutions Pte Ltd / Filmetrics Applications (Thickness Measurement / Thin Film Measurement ) – Ophthalmic Coating