Reliable, economical, general-purpose components for HV and UHV applications requiring cleanliness and corrosion resistance.
In the open position
Edge-welded bellows and valve seat move out of the gas path thereby achieving high conductance
Features
Helium leak tested before shipment using a helium mass spectrometer with a sensitivity of 2 x 10-10 std. cc/sec.
Poppet seals are fluorocarbon o-rings
Bonnet seals can be fluorocarbon or copper gaskets (select copper for higher temperature bakeout and better ultimate vacuum)
Normal repairs can be made without removing the valve body from the system
Pneumatic models also feature
Spring-to-close operation on valves ≤ 2", 2-1/2" and larger are air-to-open air-to-close
Require a solenoid (sold separately, see accessories)
NOTE: Kurt J. Lesker Company list a wide variety of standard tube sizes from 3/8" to 4". Other sizes and valves with mixed flanges are available on request.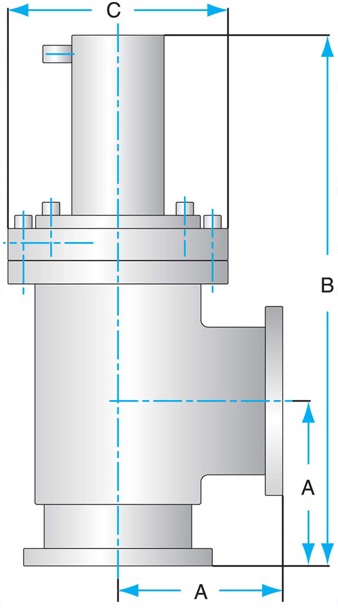 Lesker Pneumatic Bellows Sealed SS Angle Valves (ASA flanged)