Description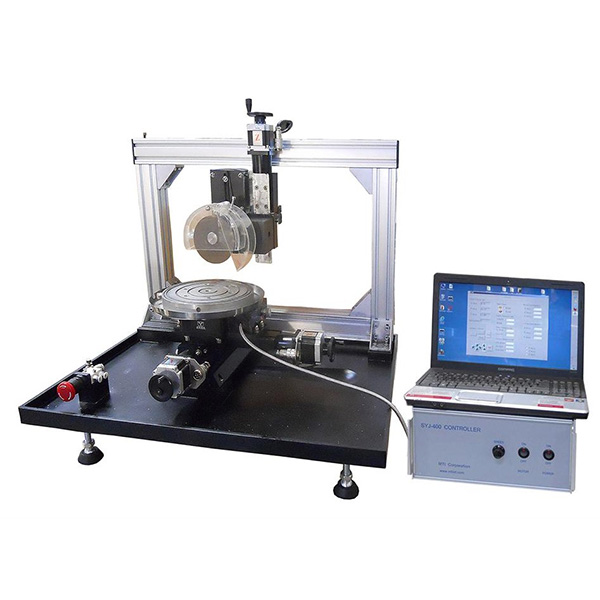 Item Number:SYJ-800
SYJ-800 is aCE certifieddicing saw designed for dicing and cutting almost all kinds of materials up to 8" diameter wafer or 8" L x 8" W x 1" H components. The SYJ-800 saw can be programmable by computer with position accuracy of 0.01 mm. The sample stage with two-angle adjustmentallows customers to cut materials at the desired angle with +/- 0.5° tolerance. It is an excellent tool for dicing Al2O3 ceramic sheet and Si or Ge wafer for electronic substrate and solar power panel.
SPECIFICATIONS
Voltage: AC 220V 50/60Hz
Motor: 1/2 HP high torque DC motor (110V) with selectable speed: 0-1400 or 0-3000.RPM
Effective Cutting Range: Three dimension: X-axis: 8" Y-axis:8" Z-axis: 2" ( depth )
Cutting Blades: Two diamond blades are included:
One 4" dia x 0.35mm (thickness) x 0.5" arbor fully sintered diamond blade

Two 4" dia x 0.35mm (thickness) x 0.5" arbor edge sintered diamond blades
Control Mode: Manual control / Automatic digital control from control box
Sample Stage and Holder:
Water Cooling: Assemblies of water jetting, draining, and splashing protection are included.
Net Weight: 50 kg
Shipping Weight: 150 lbs
Warranty:
One

year limited with lifetime support --- including all electronic and mechanical parts, but not including damaged parts caused by misuse, such as rusted part from inadequate storage and broken parts by the user.
Certification: CE certified
Premier Solutions Pte Ltd / MTI Corporation - Precision CNC Dicing / Cutting Saw with Digital Controller and Complete Accessories - SYJ-800