Description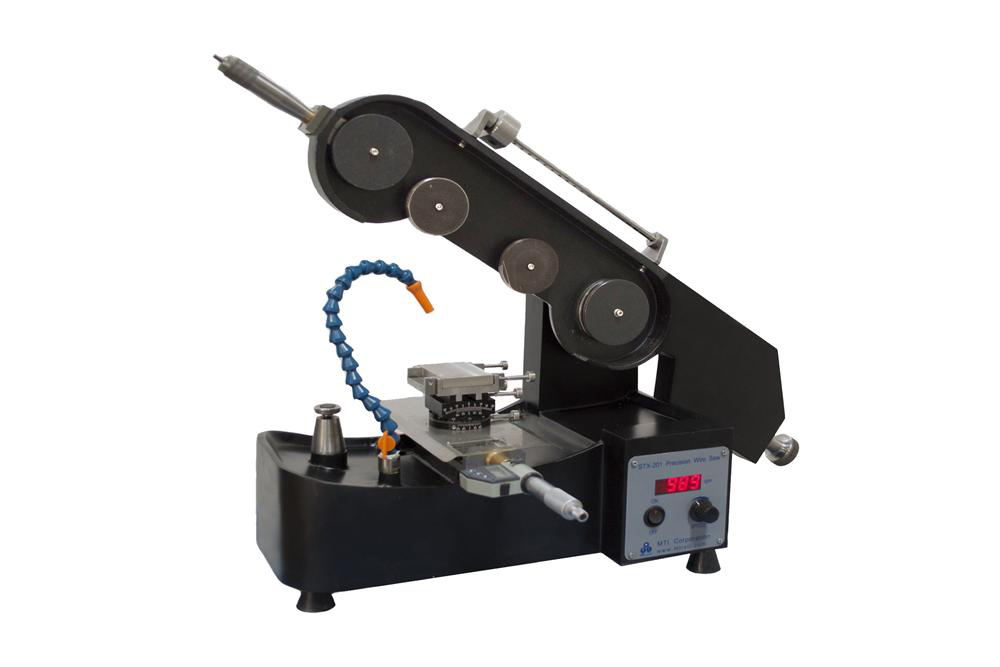 STX-201 is a CE Certified precision endless wire saw, designed to provide a very smooth cutting for almost all kinds of materials by using either a diamond impregnated or a plain wire blade with an abrasive slurry. It is an ideal tool suitable for cutting valuable delicate and fragile crystals such as SrTiO3, YVO4, and GaAs etc.
(Updated to Digital Micrometer Version from 05/04/2016, We reserve the right to change the price without notice based on inventory)
SPECIFICATION:
Stage travel distance

Max. 50.8 mm (2") travel length
360 degree horizontal rotating and 30 degrees tilt stage

Traveling position accuracy

2'' Digital Micrometer Head with an accuracy of +/- 0.01 mm (10 microns)

Size of sample stage

80 x 51 mm

Wire traveling speed

0-3m/sec

Rotate speed

Diamond Wire


One-piece loop type diamond wire (840 mm long, 0.4mm Dia. Diamond coated) is included for immediate use
A Diamond Blade Dressing Stone is included for keeping the wire sharp
Anti-corrosive coolant is required during cutting (please select in the optional product below table)
The diamond wire is consumable. Please click the picture below to order spare

Cutting thickness

Up to 50 mm

Power Supply

AC 110~220 50/60Hz, 50W

Product dimension

With saw closed: 81cm L x 43cm W x 37cm H
With saw fully open: 81cm L x 43cm Wx 54cm H


Package dimension

48" x 40" x 35"

Shipping Weight

165 Lbs

Warranty

One year limited manufacturer warranty with lifetime support (cutting wire is not covered by the warranty)

Certification

CE certified. With an additional certification fee, MTI can arrange NRTL to perform UL/CSA inspection and label the machine per the customer's request.

Application Note

Diamond wire is very easily broken. Please carefully install the wire and balance gravity before cutting.

Operation
Instruction

Warnings

It is required to use proper cutting fluid with the saw to prevent wire cold and from corrosion of the machine, We strongly recommend you use oil-based coolant or lube cool lubricant with the water pump. Do not use tap water directly, otherwise, the rusting components are not part of the warranty.
Never cut any materials without the use of proper cutting fluid. If you do so, serious damages can be caused by the spooler driving mechanism.
For cutting the sticky materials such as non-ferrous alloy, epoxy, and plastic, you must sharpen diamond wire frequently. We suggest that cutting sample along with the included dressing stone (Glue sample and the dressing stone side by side and cut them together, this process will help keep the wire sharp enough for efficient cutting.
Please clean the machine after the completion of each use.