Used for throttling roughing pumps during their initial evacuation.
Flow actuated
304 stainless steel construction
Reduce turbulence in a system by extending the pumpdown time*
Ideal for applications (semiconductor, thin film, etc.) that are sensitive to the disruption of particles within the system
Also used in conjunction with vent valves when venting a system to avoid extreme pressure differentials and high turbulence
These valves feature a vane, held open by a pair of coil springs, that pivots about an off-center axis.
Whenever the pressure differential is low enough, the vane opens.
When the roughing pump is operated, the initial flow causes the vane assembly to close—automatically throttling the pump. Also, the valves close quickly at the start of system evacuation and open automatically when a set pressure differential is reached.
Additional benefits and features
Reduce particulate contamination by reducing turbulence
Prevent substrate damage
Replace expensive pressure control bypass valves
Fast-action vane closing—12ms or better during testing**
Operate without electrical power
Replace KF centering ring for easy installation
Note:
* Typical pumpdown time using the soft start check valve is increased by 3X.
**Test times measured using a 27 CFM pump evacuating a volume of 100 liters. Results will vary based on system configuration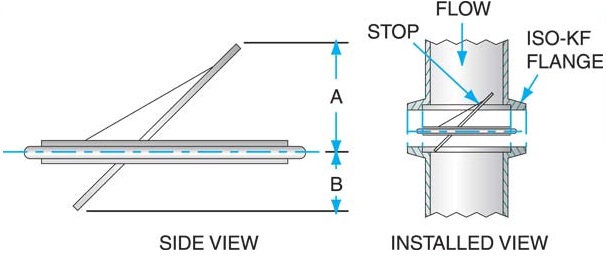 Lesker Soft Start Check Valves (KF flanged)