Description
Annealsys - AS-Micro
3-inch Rapid Thermal Processing (RTP) system for laboratories. Dual chamber version for cross contamination issues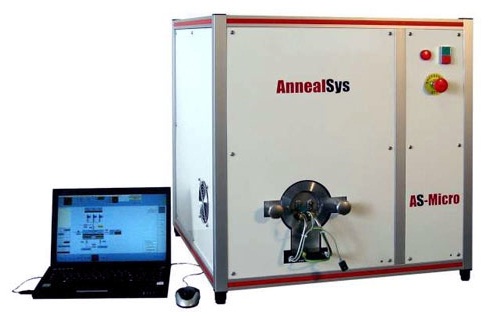 Rapid Thermal Annealing (RTA)

Implantation annealing

Compound semiconductor annealing

Crystallization and Densification

Selezination and Sulfurization

Etc...
Three-inch rapid thermal processor

Compact table top configuration

Dedicated to research applications

Sample size: few square millimeters up to 3-inch diameter

Optional 3-inch susceptor for 2-inch sample

Quartz tube with stainless steel flanges process chamber

Tubular infrared halogen lamps furnace

Very fast ramp rates

Horizontal motion door with quartz tray for easy loading and unloading of the wafers and thermocouple installation.
Performance & characteristics
Temperature range: RT to 1250°C

Ramp rate up to 250°C/s on 2-inch diameter silicon substrate, 200°C/s on 3-inch

Gas mixing capability with mass flow controllers

Vacuum range: Atm to 10-2 Torr (10-6 Torr with optional turbo pump)

Thermocouple temperature measurement and the fast digital PID temperature controller assure high and stable temperature control across the temperature range.

Optional pyrometer control.

The system is provided with full PC control with Windows compatible software.
Premier Solutions Pte Ltd / Annealsys - AS-Micro (Rapid Thermal Annealing (RTA))